Welcome to Dragonfly

Dragonfly is copper art for the home and yard. We have been creating Dragonfly for the past three years,and are now ready to present our work to the public.

Our work is created from recycled copper and new copper. Each work is unique and individual, no two pieces are ever exactly alike.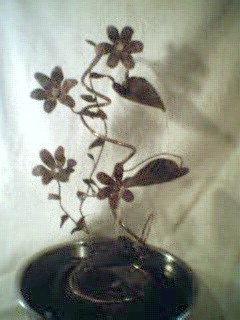 Some Of Our Creations
We make copper fountains a variety of sizes ranging from a small indoor to a large outdoor pond fountain.We also make garden floral pieces in a variety of shapes and sizes. Some pieces can be used as interior floor art, exterior garden art, or fountains.(we like our art to be versatile)

We also make floral or leaf vine art used to wrap posts on decks or patios or interior posts.Also we make copper art for mailboxes.

To see any of the items mentioned above go to our picture page.
Small indoor fountain
This is a sample of a small indoor fountain. Water flow from the top and cascades down the 3 leaves which form pools.Overall height is approximately 20 inches high and 12 inches wide.